Fall is my most favorite season, hands down.
The crisp breeze, the pumpkins, the leaves changing colors (if you live somewhere other than L.A, that is!), and getting to pull my boots and sweaters out of hibernation for the season.
You want to know what I love even more than all of those things ? FALL WEDDINGS.
photo by: Meredith Ryncarz Photography
Okay, stick with me. I know Summer is technically "wedding season", but Fall weddings are my absolute favorite! I mean, I can dance my butt off on the dance floor, and not have to worry about literally melting (goodbye, carefully styled hair), and a good fall color palette is the stuff dreams are made of: rich tones of garnet, eggplant, sage, antique gold, and burnt sienna. Most of all, what I love is that an Autumnal wedding menu is usually full of hearty, cozy food that brings everyone together and warms the soul.
photo by: Meredith Ryncarz Photography
So, when our clients requested a fall soup to be added to their cocktail hour menu, I knew it had to involve pumpkin, and I knew it needed to fit the theme. These mini copper mugs totally fit the bill! Everyone knows things automatically taste 100% better when they are served in tiny containers.
It's science, y'all.
photo by: Marie Buck Photography
This soup has all the earthy flavors of fall topped with toasted pepitas that we candied in pumpkin spices. They were a total hit, and because we like to share, we've included the recipe for you below.
This makes a batch that would serve about 8 people as a starter, and we like to pair it with a nice, crusty loaf of bread and a glass (or two) of your favorite crisp white wine.
Without further adieu...
photo by: Marie Buck Photography
Thyme-Roasted Pumpkin Soup with Pumpkin-Spiced Pepitas
serves 8
1 4lb sugar pumpkin (or substitute kabocha squash if you can't find pumpkin), halved, seeded and cut into large chunks
4 tablespoons olive oil
6 whole stems thyme (plus 2 stems picked of leaves for garnish)
2 tablespoons maple syrup
6 tablespoons unsalted butter
1 small yellow onion, chopped
2 shallots, chopped
2 cloves garlic, chopped
32oz. chicken stock (substitute vegetable stock to make it vegetarian)
2 bay leaves
salt and pepper to taste
Directions:
Preheat oven to 350 degrees.
Place pumpkin and whole thyme leaves on a sheet pan, add 2 tablespoons olive oil, and season with salt and pepper. Toss until all the pumpkin is evenly covered. Roast for 30 minutes and remove from oven**. Drizzle maple syrup over the top of the pumpkin, flipping pumpkin pieces to ensure they cook evenly. Roast until fork tender, about 20 minutes longer. Remove from oven and let cool.
**now is a great time to throw your pepitas in! Recipe below.
Add the remaining olive oil to a large stock pot on medium heat. Add onion and cook for 3-4 minutes, until soft and translucent. Add shallot and garlic and saute until fragrant.
Add cooled pumpkin and chicken stock and bring to a boil. Immediately reduce heat and simmer until all vegetables are tender, about 10-15 minutes more. Turn off heat, and puree with an immersion blender or in batches with a conventional blender. Back in the pot, season with salt and pepper to taste. If the soup is too thick, add more stock until you reach your desired consistency. Garnish with plucked thyme leaves and spiced pepitas. Enjoy!
Pumpkin-Spiced Pepitas
Nonstick vegetable oil spray
1 cup shelled pepitas
1/4 cup sugar
1 large egg white, beaten until frothy
1 teaspoon pumpkin spice
1/4 teaspoon salt
1/4 teaspoon pepper


Directions:
Preheat oven to 350°F (already done if you are making the soup at the same time...bonus!)
Spray sheet tray with nonstick spray.
Mix pepitas and egg whites in a medium bowl to coat. Add spices and mix.
Spread pepitas in single layer on the sheet tray and bake until golden and look dry, stirring often, for about 15 minutes.
Remove from oven. Separate pepitas with fork or spatula while still warm.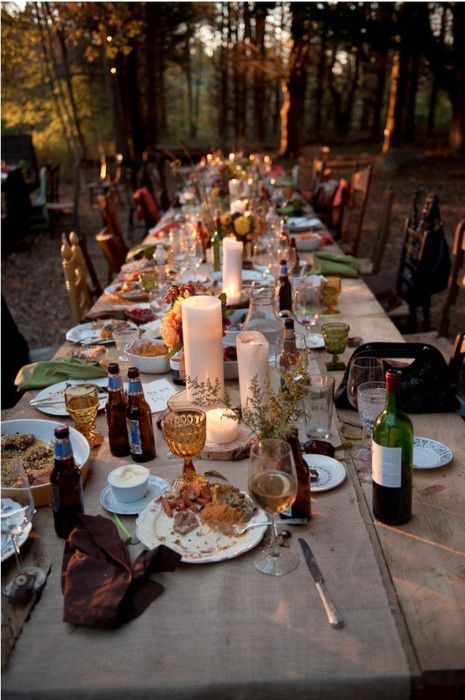 Now that's a successful event! Cheers!